Start Living Your Best Life Now!
(This page contains affiliate links. If you click on a link and make a purchase, I will receive compensation at no extra cost to you. Thank you for your support! For more information, please see my disclosure. )
This course to help you both set and achieve your personal goals will launch January 6, 2020. Click the title above for more information.
When I started Contentment Questing I had one purpose in mind: helping other people. The Pearl Perspective stays true to that vision and contains actionable tips on how you can start living your best life now. There are way too many people in the world that are miserable, just plodding through daily business, greeting each day with the dull dreary sameness as the one before it. Life's too short for that! Learn how to put away worry, deal with past emotions and move on, set real actionable goals, make better choices, and more. The Pearl Perspective delivers when it comes to what you need to do to find contentment in your own life today. Happiness is a choice that only you can make!
You are a pearl. You are priceless, precious, beautiful, and you have the power to choose to get better in the face of adversity.
Chapters 1 & 2 currently available in the FREEBIE LIBRARY if you would like a sneak peak!
Published January 1, 2019
Amazon has a TON of really neat products, but if you are like me, it's easy to get lost when I don't know exactly what I'm looking for. I put some of my favorite Amazon products in a list to make them easy to find, and I put it here so that both of us could find them. 🙂 The list is still a work in progress, so if there is something that you found super helpful or inspiring that needs to be added to our list, then shoot me an email at jennifer@contentmentquesting.com and let me know!
*There is currently a Black Friday Special on the Slay Your Goals Planner. When you buy a Slay Your Goals Planner, you also get a FREE 2020 Planner. ($27 value.) Special expires December 6, 2019 at midnight.*
This one was a fairly recent purchase for me, and it did not dissapoint! The Slay Your Goals Planner is more like a workbook or short course that breaks down how to determine what goals to set, setting the big goals, breaking them down into smaller goals, and setting a time frame for them. It also comes packed with motivational quotes. At 78 pages, it is a MASSIVE planner. However, it comes with an intro video that makes it super easy to use. I'm beyond excited about using mine to outline my goals both for the rest of this year and to slay my goals in 2019 as well.
Blogging Resources
Blogging is proving to be one of the most amazing journeys I have ever been on. It has given me a creative outlet and pushed me beyond my comfort zones. It's widened my world and help me meet some amazing people. If you are considering blogging, I'd like to share some tools of the trade that I personally use. I will say that there is not one "right" way to do things and you may find a variety of different recommendations from different bloggers. Here I'll share what's worked more for me and what I personally use.
Every blog needs a hosting provider. This is the platform that you pay to host your blog. Kind of like an apartment building. This is the server that powers your website. If you are just getting your feet wet in the blogging world, you might consider a free site. However, if you plan to monetize or are going to do more than hobby blogging, then you will need a self-hosted site. Don't worry, the price is equivalent to less than 2 cups of coffee per month. I recently switched my hosting to Siteground and I am impressed with the customer service, daily backups, and fast load speed.
If you are a beginning blogger looking for a good hosting option for your blog, Bluehost is also a good choice. This is the hosting company that I started with. You get a nice intro offer + a free domain name. Right now they are having a Black Friday Sale of 60% off their regular hosting package. That's only $2.65/month! Sale ends Friday, November 29, 2019.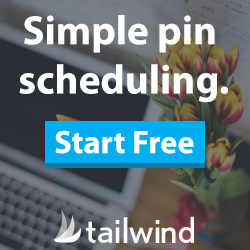 All bloggers that I know use Pinterest as one of their primary marketing platforms. Pinterest is a visual search engine, like Google, but it's where people go to look for blog posts. If you have a blog, you need to be there. As amazing as Pinterest is, it does require some time. You need to find and join group boards to share your content on and grow your followers. You also need to pin at times that your audience is on. Easy right? It is, but for me, I was spending each evening pinning to Pinterest instead of doing other things with my family. Pinterest was eating my time every night. Enter Tailwind to the rescue!
My Results with Tailwind
Tailwind at it's most basic is a scheduler for Pinterest pins. They are also a verified Pinterest partner, so it's totally ok (and encouraged) to use. It's very convenient for me to just sit down, schedule my pins and set it and forget it. They are constantly improving Tailwind too, and it has some other really amazing features. For example, they have a feature called "Tailwind Tribes." These are like group boards but on Tailwind. They help connect you to other bloggers and it DRAMATICALLY increases your reach. By "dramatically" I mean I had 35,000 views of my pins on June 1, 2018. I started using Tailwind on the free trial and then purchased it. 3 months later, September 1, 2018, I had 202,000!
The thing is, that my results are small potatoes compared to some other bloggers. I have yet to hear of anyone who tried Tailwind that did not see dramatic growth from it. If you would like to try it out, then my link will get you a free trial so you can see if it's right for you. It can be a bit confusing at first, but they have some great tutorials to make it easier. They also have TONS of data on what works and what doesn't work for your pins.
Courses by Suzi Whitford
*Suzi currently has a Black Friday sale going on now. Enter the coupon code: BLACKFRIDAY2019 to recieve 40% off any of her courses. This is the biggest discount that you will see this year. Coupon expires Friday, November 29, 2019 at midnight. *
When I don't know how to do something with my blog, my go-to place is startamomblog.com. Suzi has a gift for teaching, and her subject of choice is blogging. If you are looking for some free guidance, she has a free start a blog plan. She also has a Blog by Number full course that I have bought and recommend. If you are needing help starting up your blog and you are tired of trying to figure it all out, the course pretty much answers everything. I bought it after I had been blogging for about 4 months. My only regret is that I wish I had bought it sooner. I had been trying to figure out how to do things on my own for months, that she cleared up in 2 minutes in the course. The whole course takes you through the whole process of setting up your blog, writing your posts, putting in affiliate links, pinning on Pinterest, and more. It's basically like having a friend over sitting beside you guiding you step by step through the whole thing.
Writing is a skill like anything else. The more you practice the better you get at it, BUT you get better faster if you have a guide. Suzi also has a mini-course called Post by Number that greatly strengthened my writing. It's extremely affordable and was well worth it to me. She goes through specifics like what font and size to type in, headlines, and how to format your posts. However, the BEST thing by far to me about the course is it teaches you how to do keyword research so that people can actually FIND your posts. I didn't realize the importance of it before, but there is research that goes into the crafting of the best blog posts. Post by Number teaches you where to do it, why, and how.
Suzi has a LOT of courses and ebooks. I have not read or taken them all. She has different courses for a variety of skill levels. One of the best benefits for me was Suzi herself. She's a 6 figure blogger, and Mom to 3 little ones, but she still takes the time to respond personally. Supporting her students is a huge priority for her. When I first started my blog, I reached out for help to several other big bloggers. Suzi was the only one that answered. She was incredibly encouraging of my first (pitiful) attempts to do things. Her videos are also very good and her blog posts are incredibly detailed. I found her before her blog turned 2 years old. She is steadily gaining a lot of well-deserved attention. Her products are quality.
Free Courses from Suzi
Even if you are not interested in spending money on courses, Suzi also has some free ones that are well worth checking out.
They include: First Month Blog Plan
The Blog Plan, Which is a 12 month blog Plan – I still use this in cooperation with the Slay Your Goals Planner.